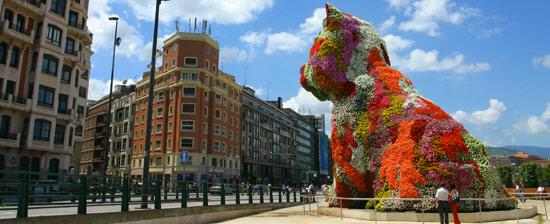 Bilbao was once synonymous with the region´s heavy industry heritage, now the city blazes trail from industrial decay to smart city of modernity in culture, arquitecture and innovation. The turning point was when the famous architect Frank O. Gehry build the Guggenheim Museum which opened its doors in 1997. There has been a considerable evolution of the city regarding architecture, design and all kind of services, and this has put Bilbao on the world map for cultural tourism. We refer to it as the "Guggenheim-effect". Bilbao is a cosmopolitan city, yet with a very basque character, and it is definitely worth a visit.
Bilbao Guggenheim Tour
Our full day tour of Bilbao starts with a walking tour downtown, strolling through the modern city, Gran Via, along the river Nervión, Abandoibarra, congress hall Euskalduna (a former ship factory), Deusto university, Zubizuri Bridge by renowned architect Santiago Calatrava, Izozaki Towers. If the weather is nice, we can take a funicular to Monte Artxanda, where we will have the best panoramic view over the city.
We will end up in the Old Town, where we discover charming little places, local shops. We see the "siete calles" (7 streets), the Art Deco market hall Mercado de la Rivera, the Cathedral Santiago, where we might see St. James pilgrims taking a rest on their way to Santiago de Compostela.
We will take a lunch break and visit local pintxo bars around the Old Town, trying the specialties of the house with a good glas of wine. Once we are energetic again, we will take the tram to the visit the Guggenheim Museum on a private tour.
Duration of tour: 10-18h (8 hours)
Includes: private local guide
Pintxo tour lunch with 6 pintxos and drinks
private tour at the Guggenheim Museum, including tickets
Cost:
Minimum 2 people: 265 € per person
4-6 people: 195 € per person
Please contact us for bigger groups or further information.