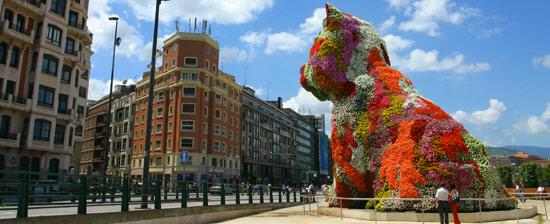 Bilbao was once synonymous with the region´s heavy industry heritage, now the city blazes trail from industrial decay to smart city of modernity in culture, arquitecture and innovation. The turning point was when the famous architect Frank O. Gehry build the Guggenheim Museum which opened its doors in 1997. There has been a considerable evolution of the city regarding architecture, design and all kind of services, and this has put Bilbao on the world map for cultural tourism. We refer to it as the "Guggenheim-effect".
Bilbao Guggenheim Tour
Bilbao is a cosmopolitan city, yet with a very basque character, and it is definitely worth a visit.
We show you the must see place like the Guggenheim Museum, The Old Town, etc. but also the most charming little spots, with make you feel like a basque.
Please contact us for further information.